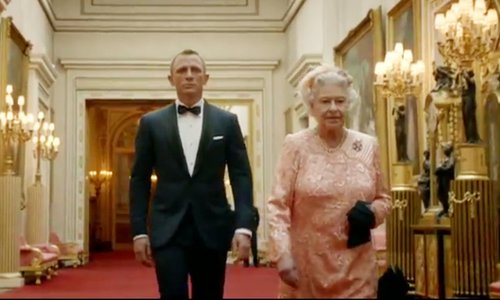 This time I'd like to share with you a lesson plan that I recently created and used with my new group of young adults. In an attempt to familiarize them with the British culture and take a break from the book, I chose this fantastic short video which shows London at its best and catches viewers' attention with its unique plot! Please download the full lesson plan (plus the student's worksheet) from the box. widget on the right side of the blog.
The Queen Sequence Opening =TEACHER'S NOTES
Target Group: teens, young adults
Level: Pre- intermediate and above
Time: a 60- minute- session
Watch here:

STEP 1: Distribute the worksheets to your students and tell them they're about to watch a short clip from the opening ceremony of the Olympic Games in London in 2012. Ask them to go through questions 1- 7.
STEP 2: Play the video once.
STEP 3: Pause the video at 00:44- Ask students to predict who will come out of the black cab. A: James Bond- Daniel Craig
STEP 4: Pause at 01:20- Who is James Bond going to meet? A: Her Majesty, the Queen.
STEP 5: Pause again at 04: 10- Can you guess what's going to happen next? A: The Queen and James Bond will jump off the helicopter and land in the stadium using parachutes.
STEP 6: Check students' answers to the following questions- You can replay certain parts of the clip to crosscheck the answers.
Q1: Which country's flag is on the children's baseball caps? A: Brazil's.
Q2: What time is it? A: It's half past eight.
Q3: How many pet dogs does the Queen have? A: Two
Q4: Which famous man's statue appears in the clip? A: Winston Churchill's.
Q5: Name as many sights as you can remember seeing in the video.
A: The Big Ben, The Houses of Parliament, The London Eye, Tower Bridge, the Canary Wharf (Tower 42) , Buckingham Palace and St. Paul's Cathedral.
Q6: Describe the Queen's entrance into the stadium with 3 adjectives! Possible answers: Impressive, amazing, spectacular, fantastic, great e.t.c.
Q7: Circle the things you can spot in the video- Correct answers: gold string, police officers, William's picture, balloons, the British flag.
Suggested Follow- up activities:
1. Writing task: Describe what happens in this short clip as if you were broadcasting the opening ceremony of the Olympic Games. Use the Simple Present tense.
*Note: Students can do this activity in class either individually or in pairs. Let them watch the video as many times as they need. Alternatively you can assign this for homework.
2. Ask students to surf the Internet and find:
– Five interesting facts about the Queen's life.
–  Who Winston Churchill was and one of his famous quotes that you can later discuss in class. (e.g. 'No one should waste a day', 'A good speech should be like a woman's skirt; long enough to cover the subject and short enough to create interest.', 'Where my reason, imagination or interest were not engaged, I would not or I could not learn.')
–  Which actors have played 007? (A: Pierce Brosnan, Roger Moore, Sean Connery, Timothy Dalton, George Lazenby, Daniel Craig)
3. Correct and return students' descriptions of the clip. Ask them to record themselves whilst broadcasting the sequence. A great, simple online voice recorder they can use is Vocaroo. If they work on iPads/ iphones, the Voice Record Pro App is ideal since it allows you to record at unlimited length and offers many exporting options (Dropbox, Google Drive, Box Cloud, email e.t.c.  For Android devices, I'd suggest trying Smart Voice Recorder which has similar features.
 I hope you enjoy my ideas and if you have some more, please feel free to share them in the comments!
 Best,
Christina