St. Valentine's Day usually evokes mixed feelings. The non- Valentine lovers pour scorn on it for being pointless and commercial while the unrepentant romantics see this as a special day of love and romance! I guess that when you're still in your teens- as many of our students are- this celebration hasn't yet lost its 'magic' or 'importance' :-). So here is how I suggest that you celebrate St. Valentine's with your EFL students while using technology effectively:
Idea No 1:
Movie Clip: I've always been a huge fan of Disney's movies! Recently this black and white short film called 'Paperman' caught my eye on Facebook and I simply loved it. It's a sweet love story which has received a nomination for the Best Animated short film at the upcoming 85th Academy Awards and it's very worthwhile watching.
Thus, I came up with some ideas about how to use it with my teenage students on Valentine's Day. These are my suggested group activities:
Students make predictions: Show students the film and pause at 1.33'. Ask them to guess how the young man will try to catch the woman's attention. Pause the video again at 3.29': 'Will he go after her or will he give up, discouraged by his boss' disapproving look?'. Last pause at 4.18': 'What will happen next?'.
Play the clip once and ask students to create a timeline of events. You may have to pause the clip at the end of major events to allow students enough time to take notes. Play the clip again so that learners can complete or correct their work. For homework, students write short summaries of all the events on the film clip.
Have students write a thought script. What are the animated characters thinking? Students share their scripts and then vote for the most inventive one. (this could be an alternative to activity B).
Ask students to describe the characters using as many relevant adjectives as they can!
Can they think of an alternative film title?
What are the hidden messages of this short love film? (Possible answers: One can find true love in the most unexpected places/ you can't avoid love/ if something is meant to be, it'll always find its way e.t.c)
Idea No 2:
Music: I picked one of the most famous love songs of all time, 'Always' by Jon Bon Jovi which I found suitable for this occasion and potentially 'acceptable' to both boys and girls :-). One of my students (who is a big Bon Jovi fan) helped me change some of the song's words with mistakes in rhyme. Learners will have to read through the song first and try to spot these mistakes. Then they correct them while listening to the song! Please find the worksheet I created and download it for free from the flash widget in the right hand column of my blog!
Idea No 3:
Voki: Why not have students create their Vokis in order to send their love messages to their beloved ones? Voki is completely free, you don't need an account plus your Vokis can be e-mailed or embedded in any social media site, blog or website. For more details click here: http://bit.ly/10Tm811. Below is the Voki I'll use as an example:
Idea No 4:
Animoto video: Students can produce wonderful short videos using their own images, text and soundtrack based on the theme of love and different manifestations of it. What is true love for them?? For more information about Animoto's capabilities have a look at my older post here: http://bit.ly/SRT0kQ
Idea No 5:
Tagxedo: Last but not least, a simple yet always creative& enjoyable activity: Tell students to pick a love poem or song beforehand. Ask them to design their own word cloud while playing with different shapes, colours, orientation and fonts! Have a look at the Tagxedo one of my adult students created last year based on William Shakespeare's sonnet 116:
Let me not to the marriage of true minds
Admit impediments. Love is not love
Which alters when it alteration finds,
Or bends with the remover to remove:
O no! it is an ever-fixed mark
That looks on tempests and is never shaken;
It is the star to every wandering bark,
Whose worth's unknown, although his height be taken.
Love's not Time's fool, though rosy lips and cheeks
Within his bending sickle's compass come:
Love alters not with his brief hours and weeks,
But bears it out even to the edge of doom.
If this be error and upon me proved,
I never writ, nor no man ever loved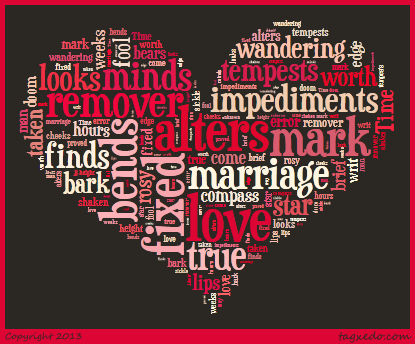 Hope you find these ideas useful and enjoyable! Pick the ones you think your students will like most and leave your comment to let me know how it went!
Even if you are not a big fan of St. Valentine's Day, try to spend it in love…there is nothing that completes us more as human beings.
All the best,
Christina